Real American Found in New York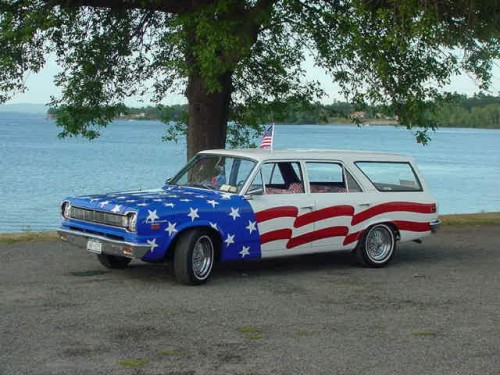 Thousands Throng to See One-of-a-Kind Patriot

Lake George, NY -- We have just had the most incredible weekend! [September 7, 2002 - DS] Last fall - towards the end of September or early October - we decided to do a repaint and restoration of our 1966 Rambler American 220 Wagon. Many ideas were discussed but they kept coming back to the fact that it was an "American." So what better to do with an American than to make it look like an American flag? We entered the car in its first show on August 25, 2002 after finishing it about 8:00 the night before. We brought home a top 25 award; we were extremely pleased that the car got the award. Two weeks later (this past weekend) we entered it in the Adirondack Nationals in Lake George, NY. The Nationals is an event that draws some of the best show cars in the world from 14 states and Canada. This year there were approximately 1600 cars at the show. The show is sponsored by the Albany Rods and Kustoms car club (very nice bunch of folks). They present 62 Awards to their favorite vehicles, this includes 50 "favorite 50" and 12 other specialty awards one of which is "favorite AMC". The show is a three-day event with the actual show being held on Friday and Saturday. The awards are given at the end of the day on Saturday. The award winners are invited back for a "winner's only" show on Sunday.
We had people say that they had seen us cruising on Friday night and had spent most of the day Saturday trying to find the car so that they could get a better look at it. I responded to this by asking them if they had any idea of how gratifying that was to hear. Other folks came up and discussed their stories of 9-11 and told us how glad they were that we had done the car this way. All in all we had one of the best weekends we have ever experienced and that was BEFORE we won the "Favorite AMC" award.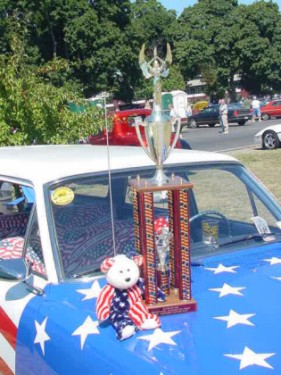 Now here we are in the winner's circle surrounded by many $100,000+ vehicles and our little Rambler is holding it's own as far as the number of people looking at and taking pictures of it. UNBELIEVABLE! We NEVER thought that there was even the slightest chance of winning anything at this show but, that is not the reason we did the car this way. I guess the saying "HEY! Ya never know" holds true here.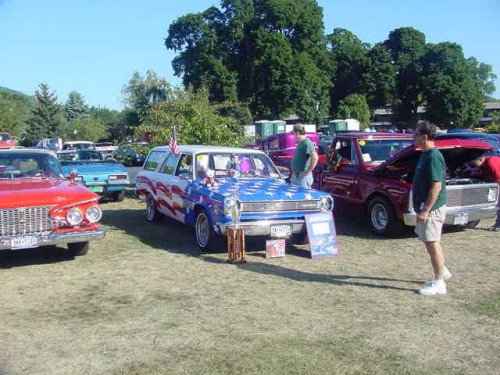 Thank you for taking the time to read my story. Please email me with comments, etc.
Marc & Nora Merkle live in Lake Luzerne, NY, are members of the 4 Season Rambler AMCRC chapter and own this 1966 American 220 Wagon.