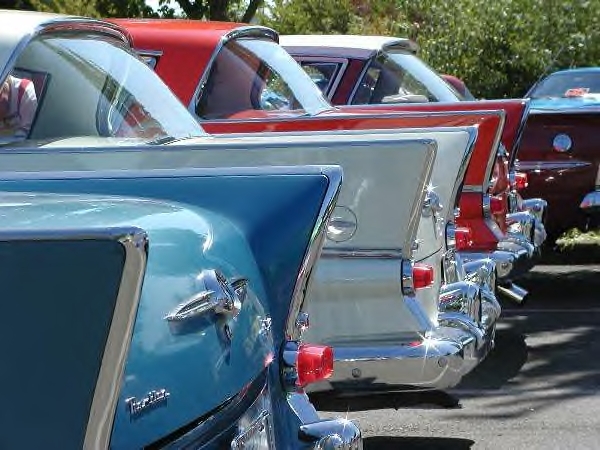 Photo courtesy of the Cascade Rambler Chapter of AMCRC
I don't yet own an American Motors car. Can I still join AMCRC?
YES! Owning a car is not a requirement for membership. If you like AMCs, you are most welcome. Besides, as a member, you get free ads for anything you want to buy or sell, and this may help you to find that AMC that you are looking for.
I have a "daily driver" car, which I use every day to go to work. It is reliable, but not restored. Are cars like this welcome in AMCRC?
YES! We have a great respect and affection for working cars, and many of our members do use their cars on a daily basis. Besides, if you are interested in attending car meets with your car, our meets have a "daily driver" category which recognizes those hard-working cars that are so busy that they just don't have time to be repainted in their original color or be totally fitted out as museum-quality vehicles.
My car is not very fancy. It is actually a bottom-of-the-line model with no extra options, not even a radio. I want to restore it as best I can, but don't want to up-grade it; I just want to keep it original. Does AMCRC help people with no-frills cars?
YES! As a matter of fact, "plain Jane" cars like yours are now finally beginning to get the respect and recognition that they have long deserved. They are even turning out to be major winners at car shows. All of this is simply because they are perfect examples of the type of car which endeared AMC to all those "little old ladies who only drove the car to church on Sunday". Providing reliable no-frills cars was essential to AMC's philosophy, and you are fortunate to have acquired one of these cars.
My old AMC is a great car but, because it is old, I find that every year I need more and more parts that I can't buy at the local parts store. Can you help me to keep my car on the road?
YES! AMCRC was created specifically by some people who needed to find parts for their AMCs. Because finding parts and services for our cars is so important to all of us, members regularly share information about parts sources with us. We put this together and publish it in

the Rambler Reader and Ad Release

, which includes everything from custom-made rubber window molding to rebuilt generators. Besides, members get free ads in our publications for anything they want to buy or sell. So, you see, you are not alone, and parts for your old AMC can be found.
My son's AMC car is a real "chick magnet"! He is so proud of it. It originally belonged to his grandfather, then to my wife, and now it is his. We would like to give him a gift membership in AMCRC. Is this possible?
YES! For anyone who wishes to give a gift membership, just send us the recipient's name, address, phone number, and car description -- along with the appropriate membership fee in U.S. dollars -- and we'll be pleased to share your enthusiasm for AMCs with that special AMC owner in your life.
I live in Europe and have spent much time looking for assistance in restoring the AMC car which I recently acquired. Can you help people like me who live outside the U.S.?
YES! We have many members outside the U.S., and we help all of them with their needs. This includes members in 8 Canadian Provinces, and some 20 foreign countries, about half of whom are in Europe.
On the Fourth of July, our car was selected to carry the Mayor of our town in the local parade. We have a photo -- would you like me to send it along when I write to you to join AMCRC?
YES! We love to see photos of AMC cars -- including "celebrity" cars like yours, but also other cars in action, or as before/after projects.
I have a 1965 Marlin. I have been told that none of these cars are on the road any more, and that it will be impossible to keep such an old car like this running. Please tell me, is there any hope for me and my "unique fish"?
YES! We have lots of Marlins in AMCRC (almost 150, actually), and we also have many sources for Marlin parts. (By the way, many Marlin parts are interchangeable with those in other AMC models, so things are not as difficult as you might think.)
If I brought my car to a meet, could I enter it in the judging -- even though it is not a museum restoration?
YES! AMCRC has "peoples' choice" judging, which means that if your car is lovable but not perfect, it could win a prize. We have even had awards in the past for "car with most potential" (i.e., rust-bucket awaiting restoration), and "best in its class" (for a model put on the field in a full-car space by someone who had a bit of bad luck and was unable to bring his car that weekend).
If I came to an AMCRC meet without my car, would there be anything for me to do, or is it all judging?
No, it is not all judging, and YES! There is plenty to do. There are lots of people to chat with, cars to see, and vendors who have parts to sell. There are also banquets, tours, and a wealth of local non-car activities for the family (like water-parks, historic sites, campgrounds, restaurants, etc.)
How long does it take to start up a new membership in AMCRC?
Because we are all volunteers, membership updates are taken care of once a week. So, allowing for postal service time coming and going, new membership information will take about a little over a week or so to get to you.

I've never belonged to a car club before. I see what you will do for me, but what must I do? Must I attend meetings? Am I required to sign up for some job? What exactly is involved in joining AMCRC?
As a member, you don't have to do anything (honest!) other than send in your membership dues. This helps us to pay for the publications that we send out to members, so everyone has a way of sharing information and questions about their AMCs.

Of course, we are always happy to accept offers from members who would like to help out with Club business and activities (after all, we are just a group of volunteers!)

But the most important thing for us at AMCRC is assisting Club members in keeping their AMCs on the road. And that is why most people join: just so they know someone is there if they need assistance in maintaining their car.

So, you can participate at whatever level suits you -- from supporting our efforts with your dues payment, to volunteering to assist in other ways. Whatever you choose, we are happy to welcome you as a member, and are please to know that you are someone who appreciates AMCs.
I understand that AMCRC's Ad Release is an optional item for members. But what I don't understand is: what does it offer in addition to what I get with my basic AMCRC membership and quarterly Rambler Reader?
The only thing you get in addition is greater frequency of delivery. Everything that is in the monthly Ad Release comes to you on a quarterly basis in your Rambler Reader. If you wish to get ads more quickly, this is where the monthly Ad Release can be useful to you. However, because all ads are run for 3 months, you get nothing extra in the monthly ads, you only get it sooner.
I understand that the calendar year membership means I will get all of this year's publications, even if I join after the first of the year. But one thing that confuses me: if I join very late in the year, I see that I will become a member for the following calendar year. How does this work?
You are absolutely correct! When the end of the year comes, we run out of publications printed earlier in the year, so we often cannot give a full calendar year's worth of materials to people who wish to join in November, or December, or sometimes even in October.

Under these circumstances, what we do is to register the person for a membership in the following year. This means that you would pay the annual membership fee for an AMCRC membership for next year.
I recently acquired a 1962 Rambler when my uncle died. I would like to sell it. Must I join AMCRC in order to advertise this car to sell?
No. We are always happy to run a CAR FOR SALE ad for non-member individuals wishing to sell a AMC car. The ad will run for 3 months, at the cost of $10.00 per ad in the AMCRC Ad release, or $20.00 for Ad Release and AMCRC Web Ad.