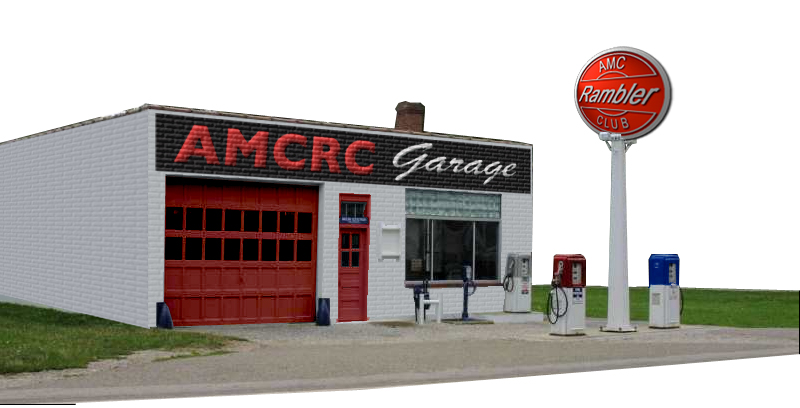 The AMCRC garage is a new "AMCRC Members Only" area on the World Wide Web. While in the garage you'll be able to post questions and receive answers to technical issues concerning your car from our AMCRC resident
ambler expert, Dr. Otto Torquentube. The garage area is in a Forum format, with cars broken down by model and year. Don't be shy, just ask and you'll have an answer within 24 hours. To keep our members that don't regularly use the internet up to date, questions and answers will be reprinted in the next available issue of the Rambler Reader.
In the AMCRC Garage you'll also find the latest issues (and past issues) of the Ad Release and Rambler Reader. The Rambler Reader on-line will be in full color, in booklet format. In addition we have a 2005 AMCRC roster on-line to allow you to find members in your area. This will be followed by a 2006 roster in March, with a hard copy also available for purchase.
We have information for download from the extensive AMCRC library. For starters we have AMC / Rambler wiring diagrams scanned and ready for download and printing for 1958 - 1969 AMC / Ramblers. We also have Esso Tune Up Guides scanned and ready for download and printing to help with that spring tune up of your
ambler. In the "Just for Fun" area you'll find
R
ambler post cards, brochures and ads. We will be updating this area each month with a new featured year. Our first featured year is 1958, with post cards of the 58 models and a full color brochure ready for down load or printing. Coming in February are Post Cards and Brochures of the "Sensational Spectaculars," the Ramblers of 1965.
Don't forget to register for the AMCRC Tech Q & A Forum by picking a user name. Then you can go to our AMCRC Frappr Map and show us where you and your Rambler live. Frappr is a new system from Google, and allows members to post a picture along with their name. Have fun checking the area out, and don't forget, the garage is open to service your Rambler.

To log into the AMCRC Members area,
use your last name plus AMCRC Membership number as your user name, and AMCRC membership number as your password. (example: busque1234 / 1234). Membership number information can be found on your Ad Release or Rambler Reader mailing labels. Login is case sensitive, use all lower case letters when logging in.
Click here to log in.