2008 AMCRC National Convention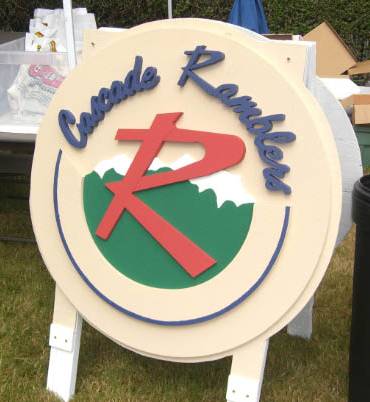 The Rendezvous 2008 Car Show and AMCRC National Convention is history, and what a good time it was. On Thursday, July 24th we met in the hotel lobby at 5:30 pm to Ramble (cruise) to dinner at the Famous Dave's BBQ, located by the Host Hotel. On Friday, July 25th we held a Swap Meet in the hotel parking lot from 9:00 am - 1:00 pm. After the swap meet it was a short drive to Point Defiance Park at Owen's Beach, where we had a BBQ from 1:00 pm - 5:00 pm. The Cascade Rambler Club provided hamburgers, hot-dogs, pop and paper plates/utensils. Local club members also brought a side dish to share.

Photos from the meet are here:
On the way back from the cook out Mike Howard had a coil go bad in his Rebel. But not to worry, thanks to the many Rambler experts on hand the problem was quickly isolated to electrical. Mark Privett was able to borrow a coil from Lynn Marshall's Car to try in Mike's car. The coil did the trick, so a group was dispatched to purchase a new coil for Mike's car. Of coarse the fun didn't stop there. After Mark Privett replaced Lynn's coil, he slipped the wire off as Lynn got back in her car to verify her Rambler was back in operational order. Of coarse her car didn't start, causing Lynn's heart to skip a few beats. Mark is such a funny boy.


| | |
| --- | --- |
| Mike Howard's Rebel stops running! | Mark Privett borrows a coil from Lynn Marshall's Car. |
| The borrowed coil works! | Brian Yacino, Lynn Marshall and Rick Berry await the new coil. |
On Saturday July 26, ninety seven Rambler, AMC and Nash cars gathered on the grounds of the LeMay Auto Museum in Tacoma, WA, a local auto museum created by Harold and Nancy LeMay who had the largest privately owned collection of automobiles, motorcycles, trucks, other vehicles and related memorabilia in the world. At its peak, the LeMay Collection numbered in excess of 3,000 vehicles and thousands of artifacts, and was listed in the Guinness Book of World Records as the largest privately owned collection in the world.
In 1998, Harold and Nancy LeMay formed the 501c3 charitable organization, The Harold E. LeMay Museum, and committed themselves to donating the vast LeMay Collection to the Museum for the benefit of the public. The LeMay Museum was chartered to secure, preserve and interpret the valuable LeMay Collection, along with additional vehicles and artifacts that it may acquire, in order to explore the broad themes of American mobility and lifestyle in an instructive and entertaining manner. It was against this back drop that the 2008 AMCRC National took place. Tours were provided by museum docents throughout the day.

| | |
| --- | --- |
| Rick Berry and Laurel McKee ready to register cars. | A Ronnie Kaplan Trans-Am Javelin celebrates 40 years. |

After the show it was time for our sold out banquet at the Fabulous Fifties Hall (inside the USA of Yesterday car building), consisting of Prime Rib, Chicken and Salmon. The Fabulous Fifties Hall is a remodeled car dealership with a display, dining and dance area. During the banquet we were treated to a wonderful presentation and commentary on Jeffery, Nash and AMC promotional materials by AMC historian Larry Mitchell, an auction, and of coarse the awards ceremony.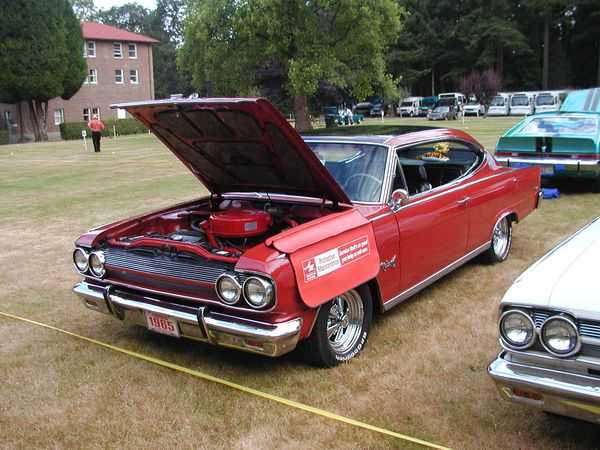 1965 AMC Rambler Marlin Fastback 2dr 8cyl. "Franciemobile" 327 Red & Black
Rick Berry and Laurel McKee
Rendezvous 2008/AMCRC National Meet