Those One-Year Ramblers
FEATURE ARTICLE from Hemmings Classic Car
Hemmings Classic Car - MAY 1, 2006 -
BY PAT FOSTER



Let's face it: The old car hobby is always looking for that extra something-something special, something unique, something different. If you think about it, a 1963 Corvette isn't any better than a 1964 or 1965, but it has one important distinction: 1963 is the only year the Stingray had a split rear window. That makes it something unique-a one-year model.

Probably a lot of car brands have similar one-year models, distinct and unique body styles or trim levels that make them just a little more attractive to the hobbyist. The one we'll focus on here is Rambler.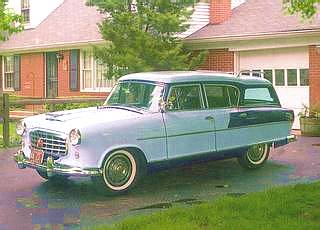 Nash-Kelvinator Corporation introduced the modern Rambler in March 1950 (an earlier Rambler was produced 1902 to 1913 by Nash predecessor The Thomas B. Jeffery Company). The Rambler debuted in just one body style, a two-door convertible with a power top that rode on roof rails, sort of like a roll-top desk. It was joined later that year by a two-door station wagon and was followed by other models. Although there were some interesting variations, it wasn't until 1955 that a real standout one-year-only Rambler debuted in the form of the Fashion-Tone models. Three versions were offered: two-door hardtop, four-door sedan and four-door station wagon. The Fashion-Tone treatment was an exterior color and trim package that gave a very different and colorful look to the Ramblers. The contrasting color delineations went like this:

Lower body color:
Four-door sedan - used on hood, front fenders, and body area between belt and base moldings.
Four-door wagon - used on hood, front fenders and body also on roof above drip rails.
Two-door hardtop - used on hood, front fenders, and body area between belt and base moldings and also across the roof panel between the rear window reveal molding and the new roof molding.

Upper body color:
Four-door sedan - used on roof area, rear deck and portions of the rear fenders above the new molding line. Also used on area between the base molding and bottom of the side sill panel.
Four-door wagon - used on rear fenders above the new molding line, and replaced the Di-Noc around the windows. Also used on area between the base molding and bottom of the side sill panel.
Two-door hardtop - used on roof area forward of new roof molding and also on the area between the base molding and the bottom of the side sill panel.

Factory retail price for the Fashion-Tone treatment was $29.90 for the sedan, $23.50 for the hardtop and a mere $13.95 for the wagon-which sounds pretty cheap, though of course those were 1955 dollars. It's not known how many Fashion-Tone Ramblers were built, but they were offered only in 1955, and even then just for part of the year. So, they're like a perfect steak-slightly rare and tasty.

In the interest of accuracy, we should point out that the first one-year-only Rambler actually debuted in 1954, when Nash introduced a Rambler two-door hardtop model in Super trim. The Rambler hardtop had been in the lineup since 1951, but only as a top-line Custom. For 1954, Nash expanded the Rambler line considerably and the hardtop Super was only one of the additions. However, 1954 was a bad year for the independent brands, and Nash sold a mere 1,071 Super hardtops, making it a rare find. After that one model year, the Rambler Super hardtop was dropped. Finding one today would be a dubious honor however, since the Super is a lower trim level than the Custom hardtop and lacks the continental spare tire, wheel discs and fancy interior trim of its more expensive brethren.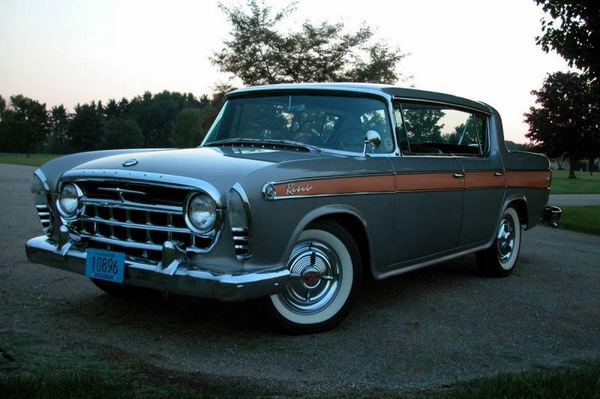 The 1957 Rambler Rebel, arguably America's first muscle car, debuted as a one-year-only sports model. Powered by the big Nash Ambassador 327-cu.in. V-8 producing a mouth-watering 255 horsepower, these are among the hottest AMC collector cars and for good reason. They were the fastest production sedans in the country for 1957. With hardtop styling and Custom trim, they're very attractive automobiles. Production was limited to just 1,500 units and, as owners like to brag, they ride well, handle swell and go like hell. If you like to eat raw red meat and thump your chest like Tarzan, this is the Rambler for you. Remember to bring your checkbook.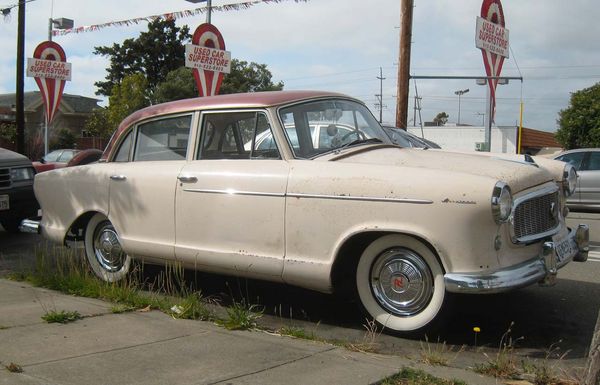 Let's jump forward to 1960 for our next one-year-only Rambler. This one is not as exciting than the 1957 Rebel, but it's easier to locate and a lot more affordable. For 1960, the Rambler American line was treated to a new body type that hadn't been offered before on the 100-inch wheelbase. This was the last year for the rounded-looking, Farina-styled small Ramblers and the only year that style offered a four-door model on the shorter wheelbase-previous small Rambler four-doors used a 108-inch wheelbase. The new American four-door was a trim family car that combined the American's traditional virtues of compact size and low cost with four-door convenience.
Retail prices for the new four-door started at just $1,844 and the company sold a ton of 'em-a total of 46,973 units. So, although the '60 American four-door is a one-year model, they're not all that uncommon. If you decide you want one, look for a Custom-they're nicely trimmed cars, and only 3,272 were produced. The next level down is the Super, of which 21,108 were built. The stripped Deluxe model is a pretty Spartan vehicle, and some 22,593 were produced.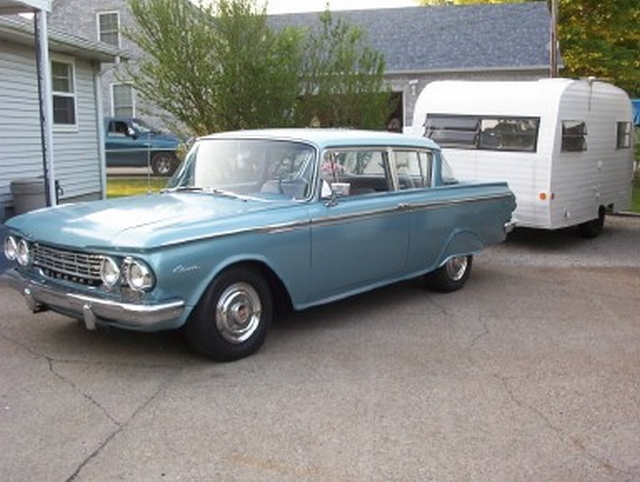 For 1962, the story was similar in a reverse sort of way. This time it was the big Rambler that was in its final season using the tallish body introduced in 1956. All previous senior Ramblers had been four-doors; sedans, wagons and hardtops. But for its final year, a new two-door sedan debuted as a one-year-only model. Appearing in the Classic series, it was offered in three trim levels; base Deluxe, mid-level Custom, and top-line 400. It didn't prove especially popular, and only 32,894 were produced. Of these, 14,811 were Deluxe models and 12,652 were Customs. If you go looking for one, try to find a 400 model-only 5,521 of those were built. Or better yet, look for a 1962 Ambassador two-door-even when new, they were so rare they didn't appear in sales catalogs.
Utilizing the same wheelbase and body as the Classic, the Ambassador features AMC's potent 327-cu.in. mill and plush interior trim. Of these one-year-only Ambassador two-doors, a mere 659 were produced in the Custom series and 459 in the 400 series. There was also an Ambassador two-door Deluxe fleet model, but only 45 were built, so you're unlikely to find one.
The following year, 1963, AMC came up with another one-year model when it introduced a stylish hardtop in the American lineup. The squared-off styling of the so-called breadbox Americans was in its third and final year. Sales had slipped a little, so AMC decided to jazz up the line with a sporty two-door. The new model featured a crisply handsome roofline shaped to look like a convertible top, right down to top-bow bulges formed in the sheetmetal. The American hardtop was offered only in the top-line 440 series, in two trim levels: 440 and 440H. Both featured custom interior trim, electric clock, full-wheel discs, padded sun visors, and an overhead valve six-cylinder engine. The 440H, however, was the more lavish of the two with standard equipment that included reclining front bucket seats with center console, foam-padded rear seat, and 138hp from its standard 195.6 OHV six with a two-barrel carb. The regular 440 hardtop made do with a split bench front seat (buckets optional), and a 125hp six-cylinder engine, equipped with a single-barrel carb. The better model wears a 440H emblem on its sail panel and, over the years, many experts assumed this meant this model was somehow related to Hurst Performance, Inc. Don't get your hopes up; it's not. Regardless, these are fun old cars. A total of 14,850 1963 American hardtops were produced; 5,101 440s and 9,749 440Hs.
In 1964, for the third year in a row, AMC debuted a one-year-only model, the good-looking Rambler Typhoon. The reason for introducing the Typhoon was to showcase AMC's all-new 232-cu.in., overhead-valve, six-cylinder engine. With thin-wall construction and seven main bearings, the new six was a paragon of smoothness and power. Using the Rambler Classic two-door hardtop body, a total of 2,520 Typhoon hardtops were produced. They featured, in addition to the 232 six, bucket seats, floor console, spinner wheel discs and special trim. All were painted Solar Yellow with a black roof.
We'll include the 1965 Marlin on our list of one-year Ramblers, solely because 1965 was the only year Marlins wore the Rambler brand. For 1966 and 1967 Marlin was considered a separate model, as was the Ambassador.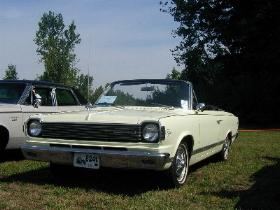 The Rambler Rogue convertible of 1967 is another one-year-only model. The sporty Rogue series had debuted in the Rambler American line for 1966, but only as a hardtop coupe. For 1967 the hardtop was joined by a trim and very attractive soft top. Since this was the final year for the American convertible the Rogue ragtop ended up being a one-year Rambler. And they're rather rare-a total of just 921 were built.
The final one-year-only Rambler on our list is the most potent one of all-the mighty Hurst SC/Rambler. This was produced using the time-honored muscle car philosophy of stuffing a company's biggest engine into a smaller, lighter car, in this case a Rambler American two-door hardtop. The SC included an AMX 390-cu.in. V-8 that belted out 315 horses, dual exhausts, a functional hood scoop, a four-speed tranny with a Hurst shifter, a Sun tach, a limited-slip differential, spoke wheels, special paint and a whole lot more. The company planned to build 500 but when these quickly sold out more were ordered into production. A total of 1,512 were built.
As it turned out, 1969 was the last year for Ramblers in the U.S. Although Rambler models continued to be produced and sold in overseas markets for several more years, here in America AMC's small-car strategy concentrated on its new-era cars-the Hornet and Gremlin.
This article originally appeared in the MAY 1, 2006 issue of Hemmings Classic Car.
Order Backissues of Hemmings Classic Car Here